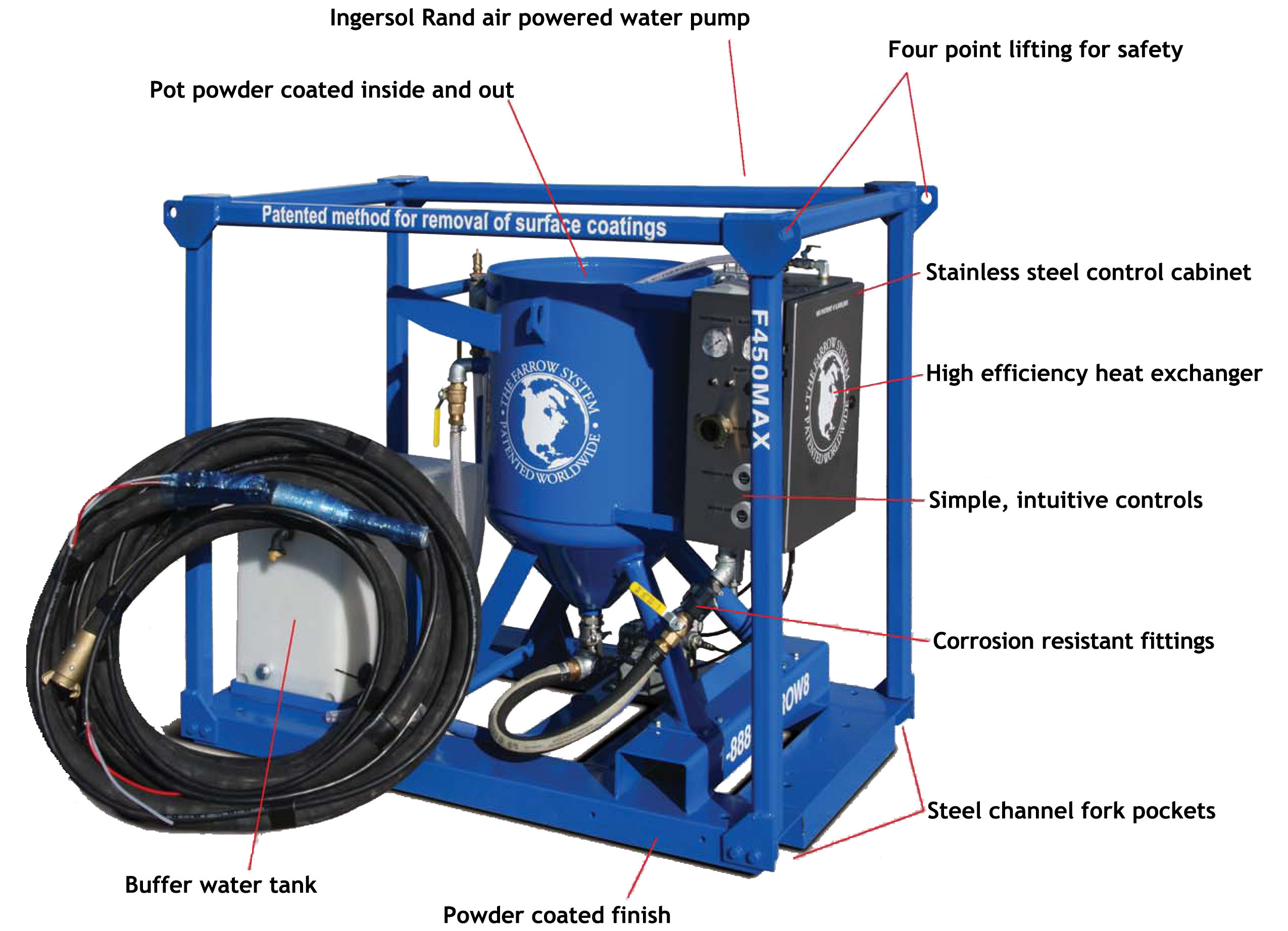 Portable, Powerful Cleaning. If you have areas that are difficult to access and clean, each Farrow MAX™ series machine packs a full-size punch in a compact package.Utilizing on-site water and compressed air , these machines deliver efficient, chemical free, environmentally safe cleaning just like our trailer mounted units. The MAX™ series machines are fully caged and can be forked, lowered, or hoisted into almost any jobsite including storage tanks.The solid steel crash frame, stainless steel control panel, fully powder coated pot, and corrosion resistant fittings are built to take abuse. This machine, originally build for off shore applications, will withstand the most extreme corrosive conditions to deliver dependable operation in any challenging environment.

The 100% stainless steel control cabinet is extra durable and sealed against the elements. It houses the dosing regulators, controls, valves, and gauges that monitor the system performance. Intuitive controls are easy to use, reducing training time required to get consistent results. Furthermore to the experienced user it becomes a precision tool of surgical accuracy.

Heat is added to the process simply and reliably with a high-efficiency air-to-heat exchanger and is transferred to the water, aligning the EcoClean® crystals to the surfaces being cleaned. All hot elements are safely located behind the lockable side covers.

Compressed air is used to pump water for the process from an on-site water source or from the on board water tanks on our self-contained models. This high reliability Ingersol Rand pump delivers consistent pressure, is efficient, and is built to give you years of trouble-free service.

All Farrow System MAX® Series units have a self contained corrosion proof polyethylene water tank to provide a buffer of water flow to the pump. This helps minimize interruptions in the water supply thereby keeping the cleaning stream at a constant flow, and you on schedule.

The pressure pot is a key component of the Farrow System®. Specifically sized for the output of the machine, each pot is welded to comply with ANSI12345 safety regulations. Afterwards, each pot is powder coated inside and out to assure maximum reliability and longevity in the field.
Specifications
250 MAX
450 MAX
650 MAX
Dimensions
1.03m x0.98m x1.15m
1.56m x0.87m x1.24m
1.56m x0.87m x1.39m
Weight
136 kg. Dry
181 kg. Dry
272 kg. Dry
Air Working Capacity
1982-3539 lt./min FS70 Hose and Nozzle
Air Working Capacity
4248-6230 lt./min FS185 Hose and Nozzle
4248-6230 lt./min FS185 Hose and Nozzle
7646-12460 lt./min FS400 Hose and Nozzle
Pot Media Capacity
100 kg. (4 bags of ecoClean)
150 kg. (6 Bags of ecoClean)
200 kg. (8 bags of ecoClean)
Pot Working Pressure
6 bar Max 7 kg./m2
6 bar Max 7 kg./m2
6 bar Max 7 kg./m2
Hose Length
15m. (Extendable to 76m)
15m. (Extendable to 76m)
15m. (Extendable to 76m)
Availiable Accessories
Hose Extension, Blast Nozzle &
Holder, Handle Assembly
Hose Extension, Blast Nozzle &
Holder, Handle Assembly
Hose Extension, Blast Nozzle &
Holder, Handle Assembly
Warranty
Complete Machine for 1 Year From
Original Purchase Date
Complete Machine for 1 Year From
Original Purchase Date
Complete Machine for 1 Year From
Original Purchase Date